AFE stands apart from other fiberglass manufacturers in a number of distinctive ways.
CAPABILITIES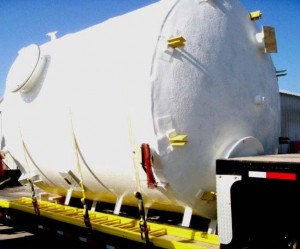 Hand lay-up, spray-up, chop-hoop winding, gel coating, vacuum bagging, pour foaming, casting, pattern and mold making, assembly, finishing, off-site and in-house repair work, confined space entry, hydrostatic testing and tank inspection services.
PROPRIETARY PRODUCTS
Custom designed baptistries, cupolas, 36" – 90" diameter manholes, 42"- 54"-66" and other diameter rehabilitation liners (trade name EZ LINERS) along with standard and custom fiberglass shelter buildings. In addition, AFE can wind fiberglass cylinders from 3'0" diameter up to 12'0" diameter for tanks, sumps, wetwells, manholes and ductwork.
Our inventory of molds include many which are adaptable for architectural applications such as ceiling domes, exterior domes, cupolas, facades, cornices, columns, fountains, and tanks.
BUSINESS RELATIONSHIPS
AFE has accumulated a customer base of over 750 individuals and firms during its fifty-plus years in business. We are the sole source manufacturer of products for numerous major accounts, many of which we have served for over 40 years.
CUSTOM MANUFACTURING
AFE has long accommodated customers requests for specialized products and thereby has developed the ability to do one-of-a-kind and short run production on a fast track pace. Our in-house design capability has allowed us to quickly adapt to new challenges and technology.
DIVERSITY
Our product mix spans many industries which has been instrumental in maintaining steady growth despite downturns in certain segments of the fiberglass industry.
LOCATION
AFE is located in an industrial area in a suburb of Fort Worth, Texas (Haltom City). We have ready access to truck and rail transportation and DFW International Airport is only twenty minutes drive time from our facility.  Major highways Interstate 30 and 35W are a few minutes from our plant. Material suppliers we use for our production are less than two miles away along with other supporting industries around the area.
SIZE
AFE occupies a four acre site with approximately 17,000 square feet under roof and another 40,000 square feet of paved areas. AFE employs 40 office and manufacturing personnel and we run two shifts.
PERMITS
AFE holds a Title 5 General Operating Permit. We are permitted to do confined space entry for tank vessel & other repairs.
AFFILIATIONS
AFE is a member of the ACMA, Texas Association of Business and Chambers of Commerce (TABCC) and the Fort Worth Chamber of Commerce.
HIGHLY VISIBLE PRODUCTS
While too numerous to list, a couple of products we produce you may be familiar with are the red/green pepper for Chili's Restaurants and the fiberglass cows for Chick-fil-A. AFE has been the choice of those who desire the best quality and customer service in the industry.