AFE produces fiberglass domes, hemispheres, and spheres. These include both high and low profile options.  Fiberglass enables significant cost savings in structural support, finish, and installation costs. Compare our spectacular full and low profile pre-made domes to those made with stone or drywall—fiberglass is more lightweight, easier to install, and non-cracking. Plus, the benefit of quick fabrication and easy customization of FRP domes!
Fiberglass Spheres
Diameter (available Whole Sphere & Half Sphere)
8"
12"
18"
24"
36"
46"
60"
90"
14' & 18'      These are built in quarters, match-drilled for bolting together and have an access panel for entry and assembly. Custom sizes available!
Low Profile Domes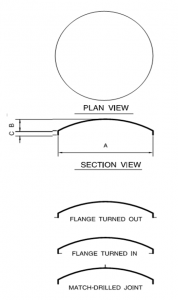 Sizes shown are AFE standard sizes that AFE currently has molds to fabricate.
Standard domes are of one-piece construction and have a gray primer gel-coat finish that is sanded and ready for painting or finishing by others. They are built with polyester resin and chopped strand mat, and are 1/4" thick min. AFE's standard domes do not come with a flange at the bottom edge.
Options available:
·  Class I Fire-retardant Resin
·  Interior or Exterior Finish
·  Two-piece construction with a match drilled joint
·  Flanges turned to the inside or outside for mounting
·  Flange turned to the inside for light cove
·  Additional structural strength for supporting light fixtures
| | | | | |
| --- | --- | --- | --- | --- |
| MODEL # | A | B | C | NOMINAL WEIGHT |
| DM3 | 3' | 5.5" | 2.5" | 25 lbs. |
| DM4 | 4' | 7" | 2.5" | 35 lbs. |
| DM5 | 5' | 9.5" | 2.5" | 55 lbs. |
| DM6 | 6' | 11" | 2.5" | 77 lbs. |
| DM6.5 | 6.5' | 12.5" | 2.5" | 93 lbs. |
| DM7 | 7' | 12.5" | 2.5" | 102 lbs. |
| DM7.5 | 7.5' | 13" | 2.5" | 121 lbs. |
| DM8 | 8' | 14" | 2.5" | 132 lbs. |
| DM9 | 9' | 16" | 3" | 165 lbs. |
| DM10 | 10' | 16' | 3" | 203 lbs. |
| DM11 | 11' | 18' | 3" | 245 lbs. |
| DM12 | 12' | 26' | 3.5" | 290 lbs. |
| |  diameter | center elevation | side height | |